New website Bridgewell
30 november 2014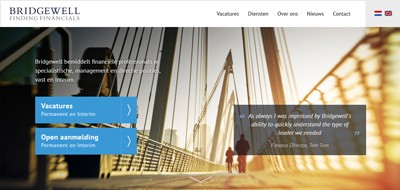 Bridgewell has launched it's new and responsive web site on November 30th.
Through our analytics and feedback by visitors to our site it turns out that there's a growing number of visitors that visit us on mobile devices (smartphones and tablets). Currently the number of mobile visitor is 1/3 of the total visitors. This number is increasing.
In order to meet the increasing number of mobile visitor Bridgewell has chosen to launch a completely new and responsive website. Our new site now adapts automatically to the screen it is shown on. Now you can sit comfortably on your couch and visit all our most recent vacancies on you smartphone or tablet and apply when interested.
We are very curious to receive you feedback on our all new site and to understand if there are still areas where we can improve in your opinion. We look forward to your response on info@bridgewell.nl